ABOUT US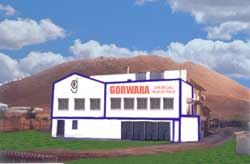 Established way back in 1996 with a very small capacity, today the capacity has increased multifold. In just 5 years, Gorwara Chemical Industries has become one of the largest Activated Nickel Catalyst producers of India with a versatile and state-of-the-art manufacturing plant.

Due to its strategy of supplying high-grade quality product within scheduled time by offering most competitive prices - Gorwara Chemical Industries is constantly increasing its customer base with repeat orders.

Gorwara Chemical Industries is situated in the outskirts of the city Udaipur in the state of Rajasthan, India, and is managed by highly qualified and experienced technocrats.

As its turnover has increased multifold, Gorwara Chemical Industries has expanded its activities to overseas markets and grabbed substantial share in the international market.

We enjoy the confidence of more that 70 companies of high repute and supplying various grades of Activated Nickel Catalyst for specific and selective applications.

We have built our reputation and market goodwill on the quality of our product and work force. We always believe in extending our total commitment to our customers in respect to efficiency, reliability and responsiveness.